General

The Hidden Unicorn is a quest available from Level 14. Upon completion of this quest, you unlock the Show Jumping hobby. If you complete this quest within the time limit of 3 days, you unlock a Unicorn Rocking Horse. There are two versions of this quest, depending on the device used: the first version has the older, longer times, whereas the second version has the same actions but shorter lengths.
Steps
Part
Requirement
Duration*
1
Inspect Show Jumping Gate
1 second
2
Investigate Horse
14 seconds
3
Check Unicorn's Horn
24 seconds
4
Talk to Unicorn
2 minutes
5
Go Home & Call a Friend
4 minutes
6
Call 2 Sims to the Stables
None
7
Laugh with a Sim
5 minutes
8
Investigate a Tree
4 minutes
9
Talk to a Sim about Unicorn
5 minutes
10
Look for Unicorns on Internet
17 minutes
11
Talk to a Sim about Shy Unicorns
2 minutes 30 seconds
12
Read "Pooping Rainbows"
9 minutes
13
Talk to Sim about the Unicorn
1 minute 30 seconds
14
Bake Rocky Road
12 hours
15
Call a Sim to the Stables
None
16
Leave Rocky Road for Unicorn
12 seconds
17
Wait for the Unicorn
12 hours 30 minutes
18
Have a Deep Sleep
6 hours 30 minutes
19
Go to the Stables
None
20
Read the Note
1 minute
21
Tap Show Jumping Gate to fix it
7 hours,

$50,000
*Time may vary depending on what star rating the item has.
Prizes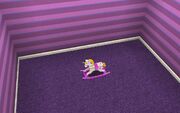 For completing the quest within the time limit, players will win a Unicorn Rocking horse. You can find it in the Toddler tab of the Home Store, costing 1,500 Simoleons and has a one star rating.