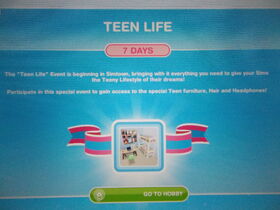 The Teen Life Event is a time limited event in the Dance Party Update lasting 7 days to earn brand new furniture and hairstyles for Teens. You must complete The Road To Fame quest and finish the Teen Idol hobby the first time in order to get this.
If you missed this event or only got one or two prizes, then you will have to wait until the developers bring it back.
Availability: 27 May - 2nd June 2017, 23rd - 29th January 2018
Prizes
Study Desks -- includes four 3-star desks
Party Hair -- in the 'Hair' section of the wardrobe
Moody Headphones -- in the 'Hats' section of the wardrobe
Posters -- in the Teen section of the Home Store
Simtone Wallpaper -- in the Walls section of build mode
Pro Gamer -- 2 gaming stations, find in the Preteen and Teen sections of the Home Store
Bunkbeds -- includes four 3-star bunk beds in the Teen section
Community content is available under
CC-BY-SA
unless otherwise noted.