Swimming pools are a unlockable build function in The Sims FreePlay that becomes an option after completing the 'It's All Going Swimmingly' quest.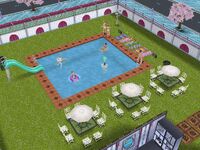 General
Home use
With a pool, you can buy pool objects such as inflatable chairs, slides, or inflatable sharks or orcas. These objects can be used to fill up Sims' sleep bars or fun bars.
However, after a few days pools will become a dark green colour. If a Sim swims in the pool, their Hygiene need will drop drastically and they will automatically get out of the pool. You have an option to clean the pool (or buy the automatic pool cleaner from the Online Store) so sims can swim in it again. Cleaning the pool will increase a Sim's hygiene bar. 
If you have a Weather Machine and select the "Make it Snow" option, a swimming pool will turn to ice for Sims to figure skate on.
Sims can also use the pool at the swim center, which must be built at the start of the quest in order to use it. There, Sims can use the four diving boards for the Diving hobby.
Penthouse
You can now build swimming pools on a penthouse lot in Downtown. Pools on a penthouse lot will be the same as a pool in a house lot.