Stables are the home of Horses.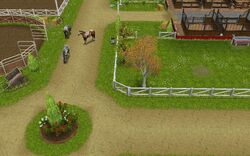 When you first find the stables, they are overgrown with weeds, covered with garbage and ruined. It is your job to repair them, cleaning everything up, fixing gates, ect. You will then be able to keep horses, also unlocking 3 new hobbies. You will acquire the stables during the Need For Steed Quest.
Hobbies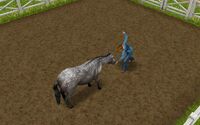 Horse Tricks
The first horse hobby you will unlock. 1 Star Horses and up can take part in this hobby. It takes 3 hours to do. Once you have collected all 12 medals, you will unlock 2 Star Horses and the Vaulting Hobby.
Vaulting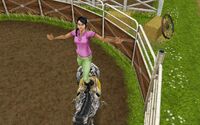 The second horse hobby you will unlock, 2 Star Horses and upwards can take part. Once you collect all 12 medals, you will unlock 3 Star Horses.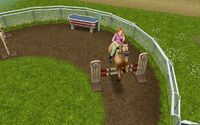 Show Jumping
The third and last horse hobby you will unlock. Only 3 Star Horses can take part.
Gallery
Trivia
Teenagers cannot complete the horse hobbies; all they can do is ride the horses, feed them and stroke them. Only Adult Sims can do the hobbies.
Toddlers can only feed horses, whereas Preteens, Teenagers and Adults can interact with horses by feeding, stroking and riding them.