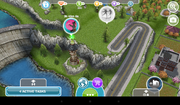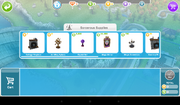 Sorcerous Supplies is the store in front of the dam. There, you can buy magic related items, such as the crystal ball and magic mirror. To build it, you need to reach Level 8, have a certain amount of Sims and a certain amount of Simoleons to build. After building the tower it'll unlock The Book of Spells quest. 
Completion of the quest and the following hobbies (Spell Casting and Broomstick Flying) after it will unlock more magical items. Completing the Saved By The Spell quest unlocks Potion Brewing. 
List of items with prices
Items already in the store when completing the Book of Spells quest.
Magic Candelabra -- S750
Wizard's Book Stack -- S1,000
Tonnes of Knowledge -- S1,750
Magic Spells Stack -- S1,750
Crystal Ball -- S5,000
Magic Bookcase -- S8,500
Magic Mirror -- S35,000
Armillary Sphere -- 8LP
Cottage Fireplace -- 10LP
Cauldron Fireplace -- 15LP
Spell Casting
Magic Broomstick Closet -- S10,000

Used to complete the Broomstick Flying hobby 
Broomstick Flying
Completion of this hobby unlocks the Wizardly Home Builders Kit
Wizard Stone (window) -- S2,000
Runic Door -- S2,500
Secret Door -- 3LP
Saved By The Spell
Potion Brewing Cauldron -- S5,000
Potion Brewing
Completing this hobby unlocks the following:
Purple Tapestry -- S750
Luminos -- S800
Cottage Oven -- S1,500
Cottage Coffeetable -- S2,000
Long Tapestry -- S2,000
Cottage Partition -- S2,500
Cottage Sundial -- S3,500
Cottage Countertop -- S3,500
Cottage Wall Bench -- S3,500
Cottage Corner -- S3,500
Cottage Sink -- S4,000
Cottage Wall Corner -- S4,000
Red Tapestry -- S7,500
Potion Stand -- 1LP