SimTown High is a school for Teenage Sims. It is located near SimTown Elementary and the Movie Studio. 
General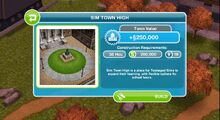 Teenagers
can only earn pocket money by going to school. Their leveling system works with age groups. Students attend school for 7 hours a day for levels 1-5 and 5 hours for levels 6 and 7.
To get SimTown High, you must first complete the 'Higher Education' quest to unlock and build the school. The hours and the amount of Simoleons needed to build it depends on how many other houses and workplaces the player has. Once it is built (indicated by the flashing bubble) you can send Teens to school there. 
As of the Downtown High Update 2017, there is a second high school that can be built Downtown. Teens cannot enroll there, but can still be sent to the old high school.
Levels
There are seven levels in this career. Each time a Teen levels up, they get more Simoleons and XP.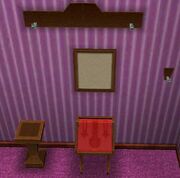 Junior Student §300 XP 300
Hall Monitor §400 XP 350
Teacher's Pet §450 XP 400
School Band Leader §500 XP 450
Senior Student §550 XP 500
Tutor §600 XP 525
Valedictorian §800 XP 550
When a Teen reaches level 2, they receive a display board. Each time a Teen levels up, a different item appears on the display board. These items include
medals, a graduation robe and an oar. The board is not interactive. 
Community content is available under
CC-BY-SA
unless otherwise noted.