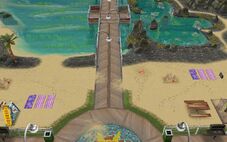 General
The Public Beach can be bought after you have completed Life Dreams and Legacies Quest for 2 Bronze and 2 Silver Sporty Life Orbs. It can be found on the Mysterious Island. The hours it takes to build varies depending on how many buildings you already have built.
Kiosks
Currently, three kiosks can be bought on the beach to upgrade it. 
Snorkel Hire Kiosk
The Snorkel Hire Kiosk can be bought for 8 Bronze and 4 Silver Sporty Life Orbs. This lets you go snorkelling.
Surfing Kiosk
The Surfing Kiosk is available for 4 Bronze and 1 Silver Sporty Life Orb. This unlocks the Surfing Hobby.
Swimming Kiosk
The Swimming Kiosk is 3 Bronze and 1 Silver Sporty Life Orb. This allows your Sims to go swimming in the ocean.
Hobbies
Snorkeling
Sims can take part in the Snorkeling Hobby once you have built the Snorkel Hire Kiosk. 3 Pools are available to snorkel in.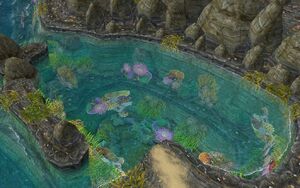 Tide Pool
The first pool you will unlock is the Tide Pool. It will be unlocked when the Snorkel Hire Kiosk is built.
Lagoon Pool
Once you have found all the treasures in the Tide Pool, you will unlock this larger pool for your Sims.
Reef Pool
This is the final pool you can unlock, you can unlock it by collecting all of the treasures from the Lagoon Pool.
Surfing
The Surfing Hobby can be unlocked by building the Surfing Kiosk. Once you have completed the collection, you will unlock a Surf Van for your Sims.
Seashell Collecting
Toddlers and Preteens can use the collection of shells on the beach to find all sorts of shells, starting a collection.
Community content is available under
CC-BY-SA
unless otherwise noted.