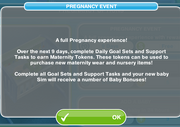 The
Pregnancy Event
was a new update to
The Sims Freeplay
that allows players to enable their adult female Sims to get pregnant and show off a baby bump!
General
To begin the event, players need to finish the Two And A Half Sims quest, then they will be able to build the Maternity Store which is next to the Real Estate Agent career. Prices using Simoleons and required number of Sims vary (for example, you may need to spend S20,000 and need 20 Sims to build). As soon as the store has finished building, players also need to finish A Bump-y Ride quest.
Goals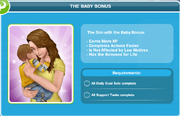 The goals will appear in an events tab which can be accessed via a button on screen. The tab will show three sections:
Daily Goals: These goals can only be done via a female who is pregnant. You need to complete a series of goals over the course of 9 days. Each day represents a month. If the player does not complete that day's goals, they will have to move on to the next day. If they don't finish in time, you will not earn the baby bonus.
Support goals: These goals can be achieved by other Sims (including those not pregnant; Babies, Toddlers and Preteens are unable to do the goals).
Baby Bonus: Once the player completes all 9 days, the baby bonus will unlock.
What happens
Pregnancy Event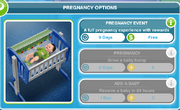 On day 4, your female Sim will ascend onto the second trimester and a bump will begin to show, they will also change into maternity clothes. On day 7 the bump will grow bigger and on day 9 the time limit will be over and the baby will be born.
Pregnancy
Your female Sim will grow a bump immediately and over 3 days the bump will grow larger. There are no goals (daily or support) showing during the 6 day time limit.
Add a baby
Tap on the 'add baby' icon above the crib and a tab will show. The third option will say 'Add a baby' which will take 24 hours and costs Simoleons.
Maternity Packs
Maternity Packs are clothes and nursery furniture only available for a limited time. Players can only earn them by playing the aforementioned pregnancy event.
Maternity Pack 1 (available March 2019, Grand Garages Update)
Maternity Pack 2 (available March 2019, Grand Garages Update)
Maternity Pack 3 (available April 2019, Pool Paradise Update)
Maternity Pack 4 (available May 2019, Pool Paradise Update)
Maternity Pack 5 (available June 2019, Pool Paradise Update)
Maternity Pack 6 (available August 2019, Family Furnishings Update)
Maternity Pack 7 (available October 2019, Cafe Culture Update)
Maternity Pack 8 (available November 2019 Cafe Culture Update)
Maternity Pack 9 (available December 2019, Lakeside Christmas Update)
Maternity Pack 10 (available February 2020, Romantic Garden Update)
Trivia
Pregnant Sims will have maternity leave so cannot participate in either professions, careers, hobbies or live events until the baby is born.
Community content is available under
CC-BY-SA
unless otherwise noted.