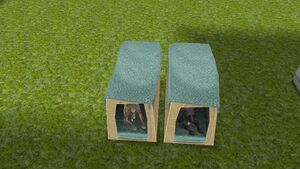 The Pet Store is a building where you can buy your pets from. It is located between the Salon and Promotions R Us Store. The time and Simoleons it takes to build depends on how many other businesses you have built before it. 
Pets available
You can purchase Pets for all your Sims. They are expensive, depending on the breed and all cost lifestyle points (ranging from 5-80 LP). 
Various pets can be purchased from the Pet Store. (Rabbits are purchased through the Home Store and fish are purchased with real money).
Exclusive pets
These pets can only be unlocked and purchased from the store if you complete a quest or hobby in the time limit. If you do not complete the quest or hobby within that time, then the pet will not appear in the store.
How to unlock
This store is attained at level 11 after completing The Mysterious Island quest. Older updates has the Pet Store as a goal to build for the A Quest for Toddlers. Recent, newer updates have removed the goal and allows players to build the Store whenever they wish after they reach level 11. 
Community content is available under
CC-BY-SA
unless otherwise noted.