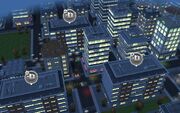 Penthouses is a new type of housing in the Sims FreePlay that started in the Penthouse Update in June 2017, due to popular demand from players asking for apartments. 
To unlock and build the penthouses, players must first complete the SimTown Express quest and the Sims and the City discovery quest. Then they will be able to build penthouses in the Downtown area.
Types
There are four types of penthouses. Each penthouse includes a mixture of old and new items. Some items could only be obtained through recent hobby events and Live Events.
There are currently only three lots in Downtown to build a penthouse. The price and time to build a penthouse varies depending on how many other houses the player has built. The price will increase each time you build a new house or penthouse.
Empty Penthouse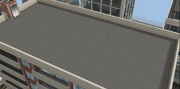 An empty lot where you can build your very own apartment.
Two and a Half Beds
Has one floor and features basic one and two star furniture. Two of the new items it has is a bunk bed and study desk from the Teen Life Event!
​​​​​
Sanctuary in the Sky
Has one floor with a small garden area. Has mostly two and three star furniture. Several newer items it has is new floor lamps and sofas, a bed and countertops from the Urban Furniture Event and countertops from the Luxury Laundry Event in the bathroom.
Lofty Penthouse
Two story penthouse has mostly three star furnishings, a swimming pool and a grand piano! New items it contains are countertops from the Country Homestead Event, a bed, sink and bathtub from French Romance Event and outdoor furniture from Tropical Romance Island event.