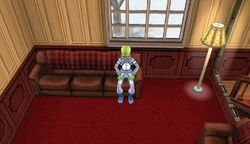 Osiris the alien is a non-player character. After receiving a quest involving Osiris, players can select to join or call him from the SimTracker.
Profile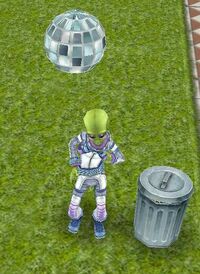 Osiris is a green alien wearing some kind of spacesuit. He is probably from Mars.
When your Sims don't talk to him, he will walk around your Sims home and use various gadgets to inspect items. Your Sim can talk to him when the goal requires you to.
He is very friendly and is named after Osiris the Egyptian.
Interactions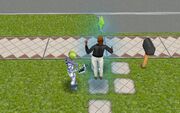 Interacting with Osiris can make your Sims become friends with him. There is three interactions for the social meter and a new one for the fun meter.
Be Funny -- 10 seconds
Be Rude -- 10 seconds
Be Nice -- 1 minute
Be Examined -- 12 seconds (new interaction in Downtown High Update)
Osiris's Quests
These are all the quests involving Osiris: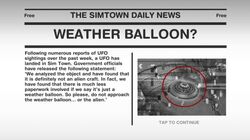 You will meet the alien after spending a day looking for UFO's; you will then have to become friends with him, and let him watch your sims woohoo for an experiment.
Osiris the alien is back and this time he's going to help your pre-teens grow up!
Osiris creates the Age Controller, letting your Sims age automatically!
The (RED) Flowers of Simtown
Product Red Event for Apple IOS players only. One off event to build a special statue by the Science career. 
Osiris will appear while your Sims help a lost puppy return home. 
Community content is available under
CC-BY-SA
unless otherwise noted.