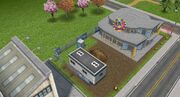 The Nightclub is a part of Sim Town, found on the right hand side. It used to be built for 15 SP. As of the Grand Garages update, it will be built for free at level 7.
Actions
One can get their Sim to become a DJ (7 Minutes), this is required to do for other Sims to use the dance floor. All Sims who are dancing will get friendship boosts. For example, if the Sims are strangers when they start dancing, they will be friends by the time they finish dancing.
One can also tend the bar (20 Minutes) and other Sims can buy drinks for §2500.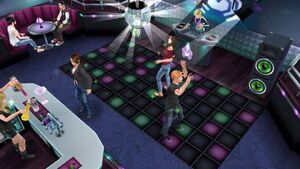 There are booths that their Sims can sit in (2 minutes) but only two Sims can sit in a booth at one time and there are two booths.
Lastly, one can use 1 of the 2 bathrooms to use the toilet (30 seconds).