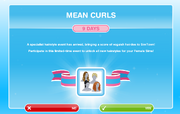 Mean Curls
is a time limited event involving the
Fashion Designer
hobby. Players will get the chance to win brand new hairstyles for adult female Sims. It will last 9 days.
Pop-up is as follows: 
Chic new hairstyles are coming soon to SimTown! Make sure to have the Promotions'R'Us Store built so that you're ready when it arrives!
Availability: 5th - 14th August 2017, 1st - 10th March 2018
Prizes (hairstyles)
Randomized -- you might not receive the one the you want most. Each hairstyle comes in eleven colours: black, blonde, blue, light brown, dark brown, red, light purple, pink, light blonde, orange and dark purple.  Windswept Wonder and Free Falling have two additional colours.
Windswept Wonder
Styled Braids
Half Braid
Wild Ponytail
Curly Undercut
Freeflowing Curls
Curly Mane
Casual Updo
Free Falling