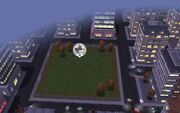 Downtown High
is an interactive school in The Sims FreePlay, first introduced in the August 2017 Downtown High Update.
General
To be able to enter and interact with this school, players must first build the SimTown Express and complete the SimTown Express discovery quest to access Downtown. If players have already completed SimTown Express and already have Downtown, they can build the High School whenever they wish (requires a certain amount of Simoleons and number of Sims).
Once built, there will be a flashing bubble and a pop up saying it has finished building. Tap on the bubble and a pop up for the Teacher's Pet discovery quest will show. Completion of the quest will allow players to interact with the school and completion of the Class Clown hobby unlocks more rooms.
Features
There are a total of eight rooms in this building which need to be unlocked during the Class Clown hobby: four on the first floor and four on the second floor.
First floor
English
Home Economics
Computer Lab
Science Lab
Second floor
Math
Principal's Office
Staff Room
There is also a sports field at the back of the school, complete with soccer goals and running track. These are used during the quest. After the quest players can use them whenever they want.
Trivia
Downtown High is the third location that unlocks new areas and a discovery quest; the first being Sunset Mall and the second is the Deer Spring Falls Campgrounds.
The amount of Simoleons needed to build the school varies, since the price will rise depending on how many other businesses and houses are built.
Community content is available under
CC-BY-SA
unless otherwise noted.