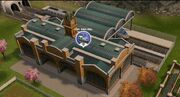 Downtown is a new area to SimTown in the Sims FreePlay. It was introduced in the Doctor, Doctor Update in September 2016 due to high demand for a Hospital. Unlike SimTown and the Mysterious Island, Downtown resembles a large city.
Areas
These are the areas added to the game so far. More areas might be added in future updates.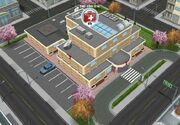 Added: 6th September 2016
The SimTown Hospital was the third and final Professions career added to the game. Players help two Sims in the Medical Staff career to unlock, build and upgrade workstations from level 1 to level 20. Sims can level up to 10. To get the Hospital players must build the SimTown Express and complete the quest.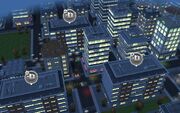 Added: 5th June 2017
Three more home lots in high rise buildings! Complete the Sims and the City quest to unlock and build penthouses.
Added: 23rd August 2017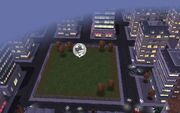 Recently added to the game in the Downtown High Update. Unlike SimTown High on the mainland, this is an interactive second High School. Build it and complete the Teacher's Pet quest to build more rooms.