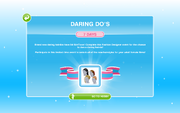 Daring Do's is a time limited hobby event. It involves the Fashion Designer hobby and lasts 7 days to get eight packs of new hairstyles for Adult female Sims.
Available: 26th December 2018 - 1st January 2019, 7th - 14th February 2020
Prizes
Randomized - you might not get the one you want first. Each hair comes in several different colours: black, blonde, pale blonde, strawberry blonde, light brown, chestnut and dark brown. Each 'pack' contains four hairstyles.
Embellished buns
Earthy embellished buns
Embellished braids
Bright braids
Mixed long pinned
Bright long pinned
Dark dreads
Bright dreads
Trivia
Unlike the other hair themed events, where there is one hairstyle in a range of colours, Daring Do's splits the same hairstyle twice into four.