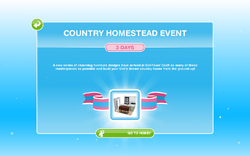 The Country Homestead Event is a time limited hobby event that appeared in November 2016, March 2017, on 17 August 2017 and 10th October 2018. Like the Urban Furniture Hobby Event, you need to use the Woodworking benches to get all the items within 9 days.
Packs
There are ten packs of country-themed furniture to be won (they are earned in order).
Walls 
Windows - white and dark, single and double 
Doors - white and dark, single and double
Kitchen Essentials - countertops x2 and sinks x2 
Living Space - door frames and dressers
Benchtops - counters x2 and corner counters x2
Floorboards 
Kitchen Suite - counters x2 and oven hoods x2
Sideboards - white counters x3 and dark counters x3
Island Benches x3 
Trivia
Unlike the Urban Furniture, where all the counter tops are in one pack, this event splits the counter tops into two for four packs.