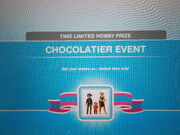 The Chocolatier Event is a limited time event involving the Chocolatier hobby. It will last for 7 days, starting 24th October 2017 for your chance to win Halloween costumes for your Sims! If you only get one or two costume packs or none at all, you will have to wait for the developers to bring it back.
The costumes are from the 2015 and 2016 Night of the Candy Monsters quest. Each set of goals would have unlocked one set of costumes. If you had completed the quest in the time limit and got all the costumes, then the Chocolatier Event will not show for you.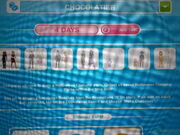 Prizes
There are seven packs with two costumes for each gender and age group (excluding Babies and Seniors). For example, there are two costumes for Preteen girls (Unicorn and Ghost) and two costumes for Teen girls (Fairy and Zombie Cheerleader). 
Pumpkin Head and Fawn 
Frankenstein's Monster and Fairy 
Dracula and Zombie Cheerleader 
Viking and Witch  
Candy Monster and Ghost 
Astronaut and Pirate Skeleton 
Lion and Unicorn