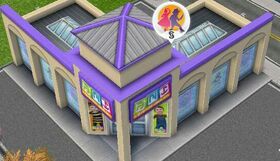 The Children's Store is a store in the Sims FreePlay, unlocked and built during the Two And A Half Sims quest. It is located near the Art Gallery. The amount to build it varies depending on how many other businesses the player has built.
When you tap on the shop, there are three tabs: Infant, Toddler and Preteen. They will each be added as the player progresses through the quests (for example when you complete the Two And A Half Sims, the infant tab will be added; when you complete A Quest for Toddlers the toddler tab will be added and when you complete the Preparing For Preteens quest the preteen tab will be added).
Items
There are a few items that are sold in the store that cannot be found in the Furniture tab of the Home Store. These are mostly toddler items, but one is for infants.
Infant section
Hearts Mobile (costs 1 LP)
Toddler section
Sandpit (1 star - costs 6 LP)
Royal Pink Bed (3 star - costs 25 LP)
Items from the Home Store will also be found here, as well as the new items from the Dream Daycare Event.